Infrastructure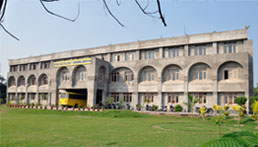 Khalsa College of Nursing is situated in campus adjacent to Khalsa Public School on G. T. Road, Amritsar,Gate No. 5. Centrally located triple story building surrounded with huge ground and beautiful greenery.
Fourteen spacious well-lit and cross ventilated class rooms with beautiful surroundings which provides comfortable learning environment. Each class room is well-equiped with modern technological audio-visual aids like LCD Projector, OHP Projector, models and charts to enhance academic activities like lectures, Seminars etc.
On the ground floor of the college a spacious multipurpose hall with capacity of 400 seats is available, where all the college gatherings like annual functions, religious programs, seminar, workshops and conferences and other extracurricular activities are organized.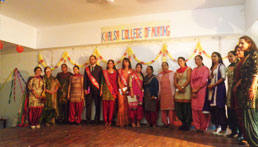 On the top floor there is a well-lit, cross ventilated examination hall with sitting capacity of 500 examinees.
There are seven well furnished laboratories lodged with all required articles and equipments for practice and demonstrating nursing procedures. These are aimed at helping the students to acquire knowledge, understanding and skills in techniques of nursing and practice them in supervised settings. In each lab all the requirements are fulfilled as prescribed by Indian Nursing Council.
There is a well-equipped separate Library for Nursing Students with a wide range of topics in medical sciences and all modern Facilities. Library excellently connected with internet facilities via wifi system. There is separate journal section which have many journals and periodicals are available to the students for references. The Library has got more than 3000 books and 21 National & International Nursing Journals.
The Nursing hostel is located in the campus. This is a beautiful building with attractive furnished visitorís room, Warden office, recreation room and dining hall. There are beautiful lawns and play ground around the building. It is a privilege which should be utilized carefully. The students have to abide by the rules and regulation prescribed by hostel warden and help in creating a home like atmosphere in order to promote a well balanced personality.
There is Gurudwara Sahib within the hostel building where regular morning and evening services are held by volunteer students. The students residing in hostel are expected to participate in the celebrations of Gurupurabs and other religious functions. Provision for sports & games is available and students are advice to use free time creatively.