Anti Ragging Committee
"Ragging" means the doing of any act which causes, or is likely to cause any physical, psychological or physiological harm of apprehension or shame or embarrassment to a Student.
What constitutes Ragging: - Ragging constitutes one or more of any of the following acts:
a. Any conduct by any student or students whether by words spoken or written or by an act which has the effect of teasing, treating or handling with rudeness a fresher or any other student.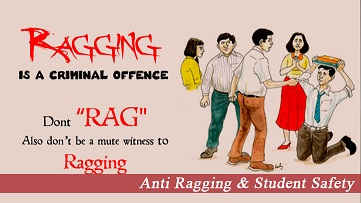 b. Indulging in rowdy or undisciplined activities by any student or students which causes or is likely to cause annoyance, hardship, physical or psychological harm or to raise fear or apprehension thereof in any fresher or any other student.
c. Asking any student to do any act which such student will not in the ordinary course do and which has the effect of causing or generating a sense of shame, or torment or embarrassment so as to adversely affect the physique or psyche of such fresher or any other student
d. Any act by a senior student that prevents, disrupts or disturbs the regular academic activity of any other student or a fresher
e. Exploiting the services of a fresher or any other student for completing the academic tasks assigned to an individual or a group of students.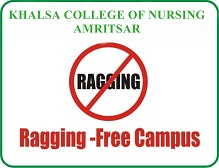 f. Any act of financial extortion or forceful expenditure burden put on a fresher or any other student by students.
g. Any act of physical abuse including all variants of it: sexual abuse, homosexual assaults, stripping, forcing obscene and lewd acts, gestures, causing bodily harm or any other danger to health or person.
h. Any act or abuse by spoken words, emails, post, public insults which would also include deriving perverted pleasure, vicarious or sadistic thrill from actively or passively participating in the discomfiture to fresher or any other student.
i. Any act that affects the mental health and self-confidence of a fresher or any other student with or without an intent to derive a sadistic pleasure or showing off power, authority or superiority by a student over any fresher or any other student.
'Nursing' is a noble profession. It members are revered for their human values, compassion and consideration for their fellow human beings. Every nursing student shall therefore learn to be self disciplined and observe rules and regulations as a matter of habit rather than because of fear of consequences. They shall at all times conduct themselves with proper dignity and decorum expected of a budding nurse.
The following instructions are framed to prevent the menace of ragging and foster healthy interpersonal relations among students at Khalsa college of Nursing.
Students
1. Ragging is strictly forbidden in or outside the campus.
2. All students shall familiarize themselves with rules/regulations/guidelines on code of conduct, anti-ragging measures and discipline of the institute.
3. All 'fresher's should attend counseling sessions organized for them from time to time by the college staff.
4. Any student who suffers ragging or notices occurrence of ragging shall immediately report the event to concerned authority.
5. Incidences of ragging can be reported to any member of Anti-ragging squad, Anti-ragging committee of the college or to Academic counselor.
6. Students may report incidence of ragging either orally or in writing. They may also report the incidence in person or by phone. Anonymity of the caller will be maintained.
7. All fresher's will be segregated & accommodated on one floor of the hostel. No senior student will be permitted to visit fresher's room at any time of the day/night.
8. Dining hall and timing for various meals will be specified for the fresher's. No senior student shall enter that dining hall during time earmarked for freshers.
9. Any victim of ragging not satisfied with the action taken by the Head of the Institution or by the University may submit an appeal in writing to report the event to the local police.
Anti-ragging Squad
1. The members of the squad will visit at least twice in a week all potential areas of ragging on or outside the campus
2. The squad conducts surprise visits/raids on hostels and other hot spots of ragging and apprehends the culprits.
3. It shall record all verbal/telephonic/written complaints and take action as stipulated in the bye-laws of the university.
4. It shall keep the principal informed of all events/occurrences of ragging in the college.
5. Anti-ragging squad will be assisted by members of college teaching staff detailed by the office of the principal on day to day basis to keep vigil on untoward events.
Anti-Ragging Committee Members
Students can also call and report any incidence of ragging at toll free numbers & by email
Anti Ragging toll free number: 1800-180-5522
Email: helpline@antiragging.in